Are you looking for practical ways to support your child's development?
Do you want to learn how to help your child have fewer 'meltdowns'?
Do you want to develop your knowledge to better advocate for your child?
There are lots of things to consider when supporting the very unique abilities and needs of autistic children, to ensure you are enabling them with lots of opportunities to reach their potential.
The internet is often an overwhelming place of conflicting information, especially in the area of autism. It can leave you feeling confused and drained.
These courses will provide you with accessible, step-by-step videos with accessible information, strategies and resources that are really helpful for supporting children's development and progress in the key areas of:
communication
sensory processing
behaviour and emotional regulation
understanding of transitions
social interaction
When children's needs are met in these areas, they are in a better position to feel happy, make good progress and they will be less likely to engage in challenging behaviour.


How Will These Courses Benefit Me?

Expand your knowledge
Build your understanding of autism, developing communication, sensory processing, emotional regulation and social interaction, and practical ways you can help and support.

Gain lots of practical skills and strategies
Have a 'tool-box' of hands-on strategies, resources and skills, that you can use to support your child's individual abilities and needs.

Build your confidence in supporting different needs
Feel confident to talk about different methods of support with your child's teacher or other professional.

Access Anytime
Complete the course at a time convenient for you. Our flexible, on-demand courses allow you to log in and complete the content as you go, plus you can revisit the content if needed!

Bitesize videos
Each course is broken down into short modules, allowing you to easily follow the content. The modules are full of invaluable, to-the-point information and resources.

Practical advice
With a vast wealth of knowledge and experience, each video is filled with practical advice that you can implement, immediately.

Downloadable resources
Each course comes with downloadable resources including visual supports, slides, reflection tasks and other helpful resources. These will help support your learning and practice.

Support community
Ongoing support is offered through interactive chat on each video.

Device compatible
Our courses can be completed on whatever your preferred device is, either via your browser or the Teachable app.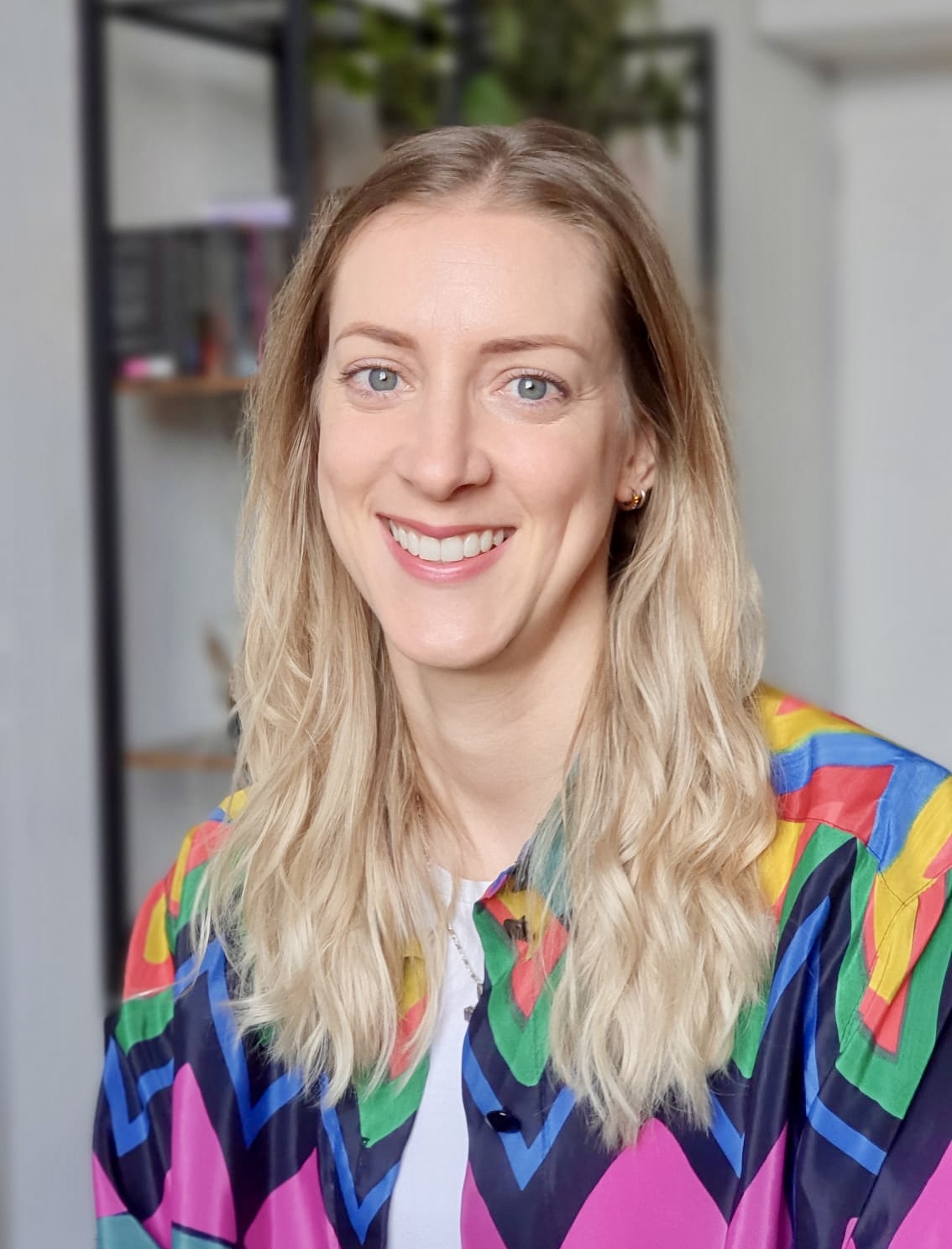 Hi, I'm Steph Reed Your Teacher!
I am an Autism Specialist Teacher & School Consultant based in London, UK.
I have 15+ years experience of teaching autistic learners with a range of abilities and complex needs. I've previously held leadership positions of SENCo, Inclusion Leader and School Autism Outreach Leader.
I now consult in a variety of schools focusing on staff development and enhancing autism and SEND provision.
I am neurodivergent and this drives my passion and understanding of individual learning needs and empowering teachers and parents.
Kind Words About the Courses...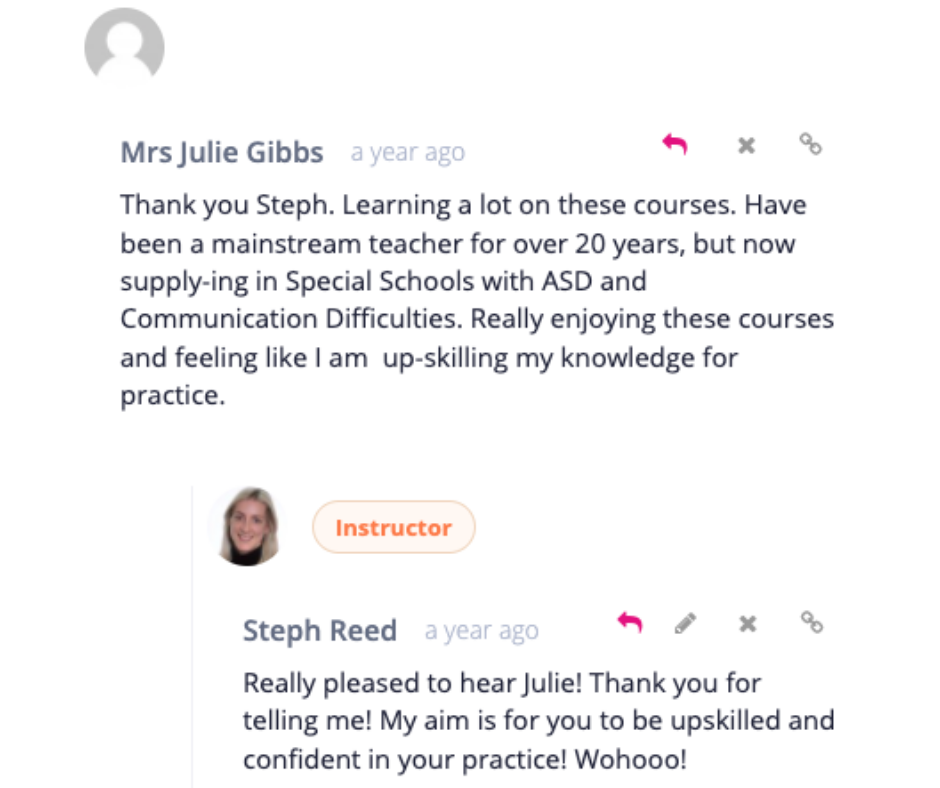 Mrs Julie Gibbs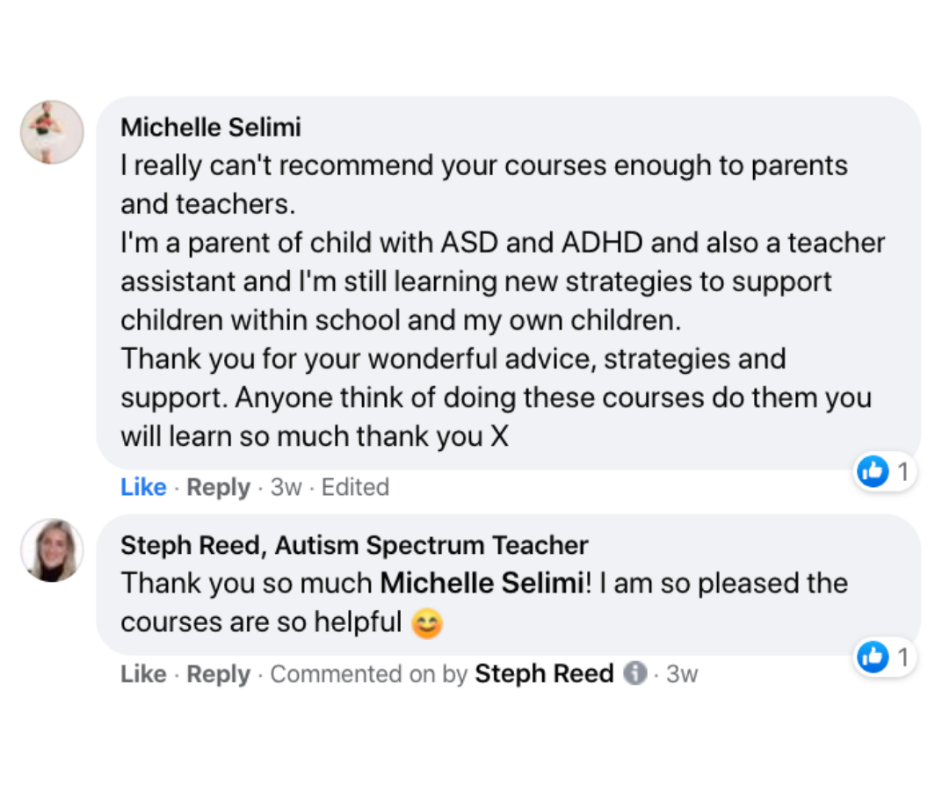 Michelle Selimi
Parent of child with ASD and ADHD & Teaching Assistant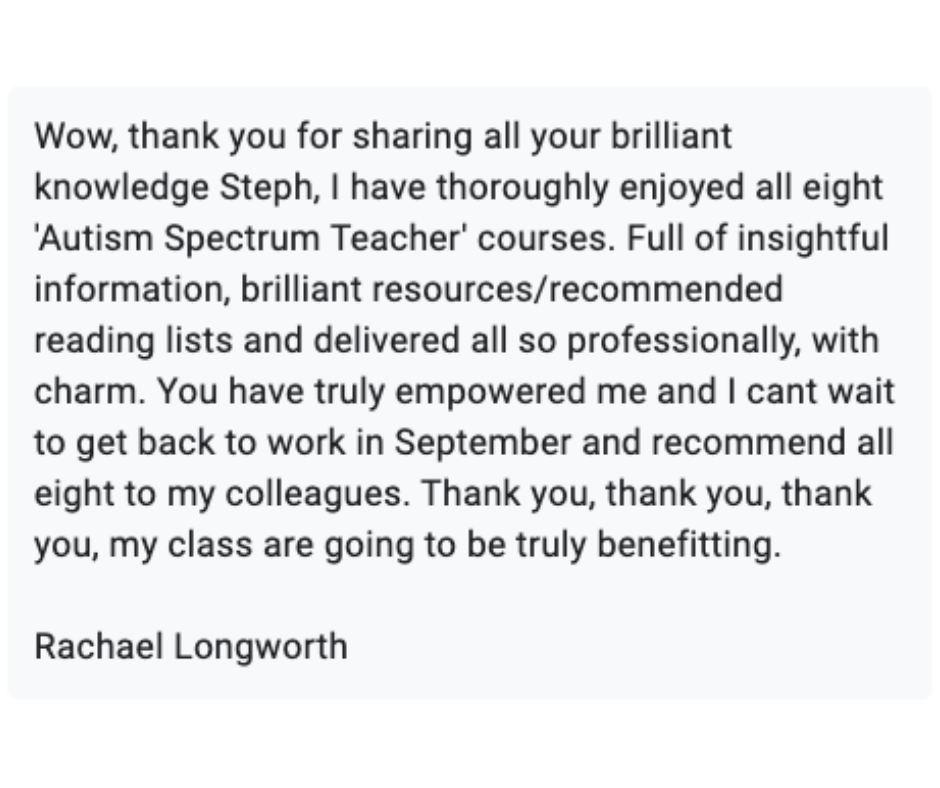 Rachael Longworth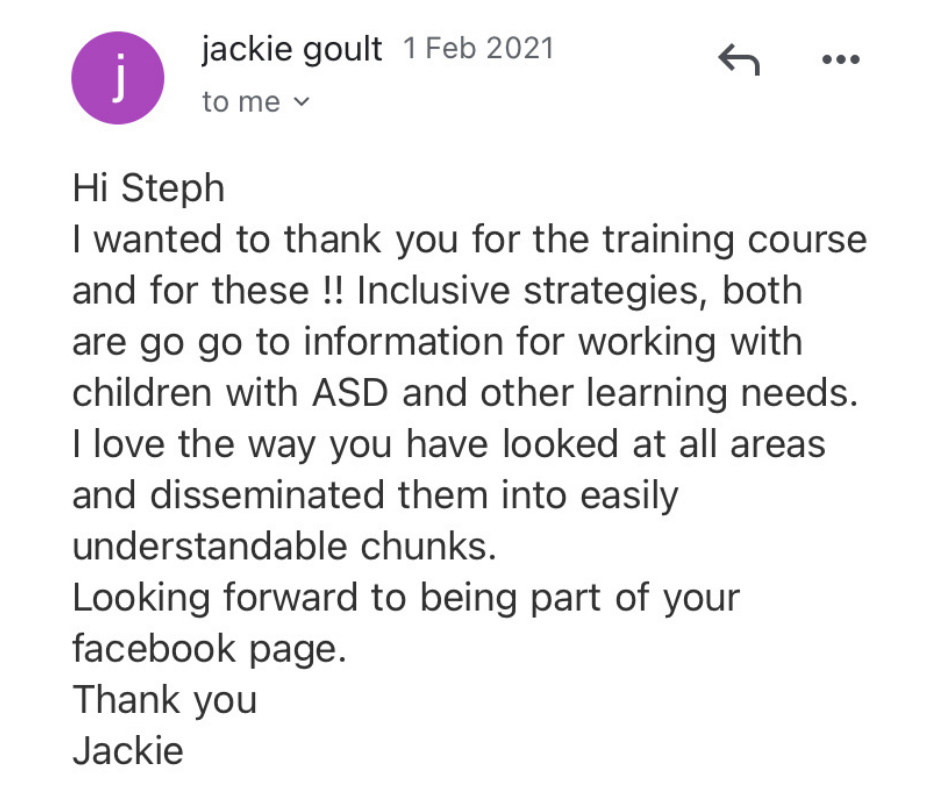 Jackie Goult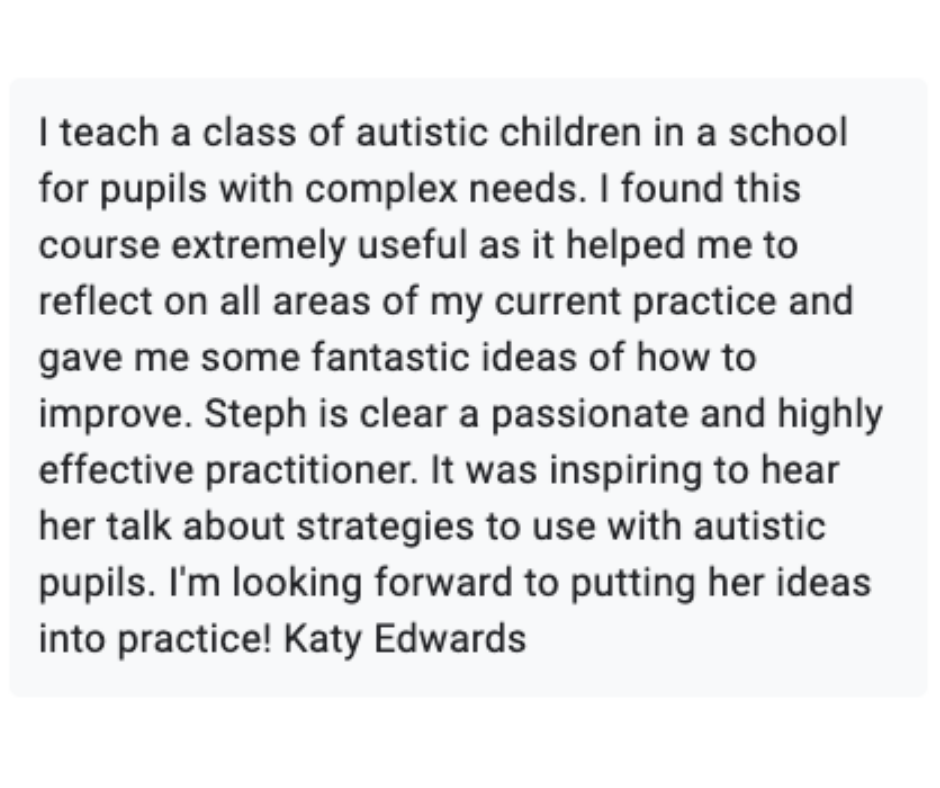 Katy Edwards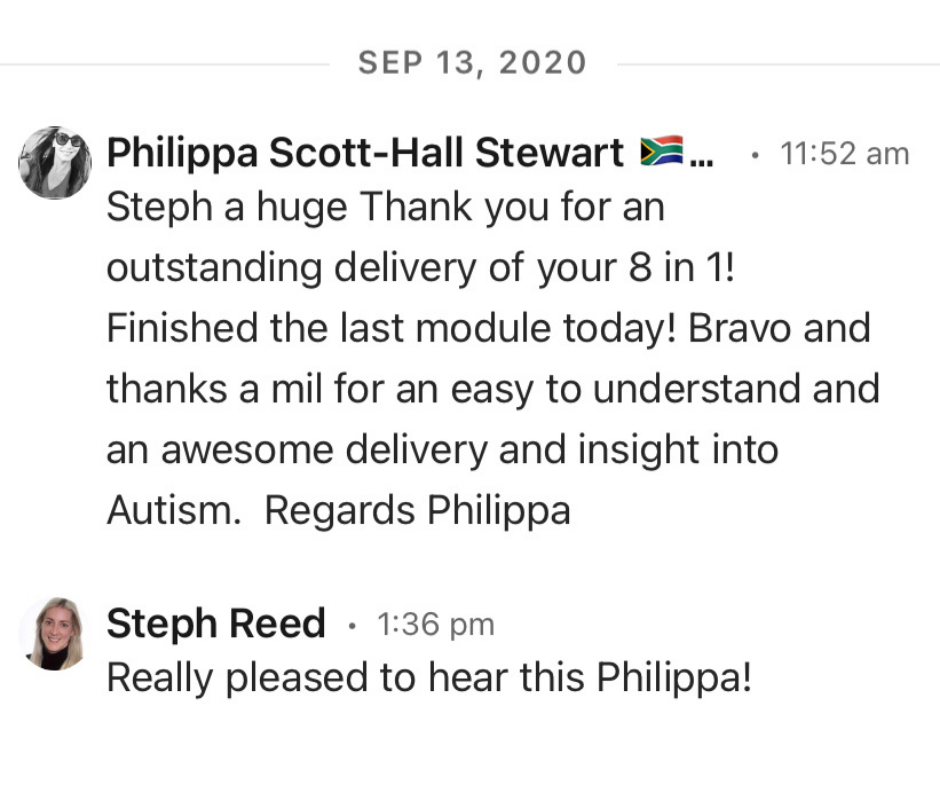 Philippa Scott-Hall Stewart
What's Included in the 6 Course Bundle?​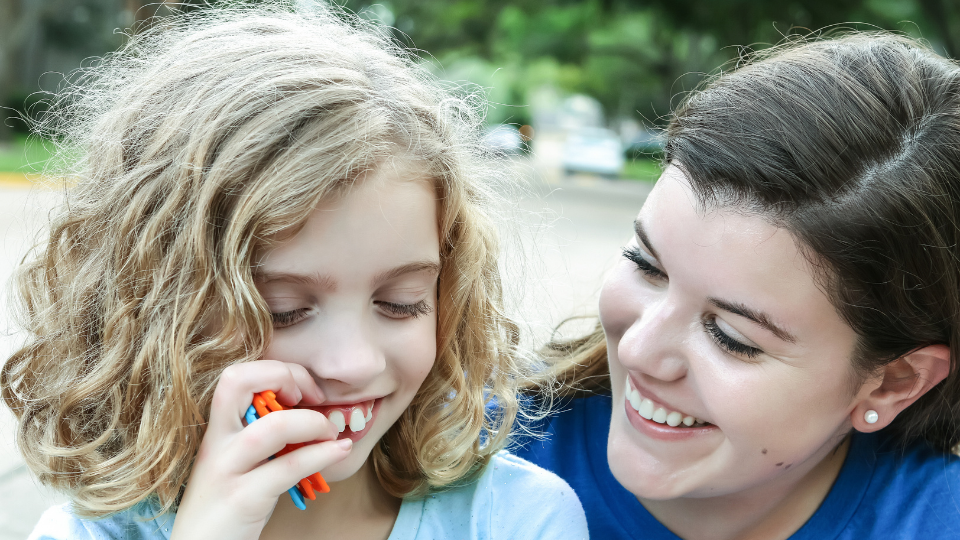 1. Autism and Practical Support
Learn how to identify the personalised needs of autistic individuals. Gain practical strategies and helpful skills in supporting communication, sensory processing and thinking.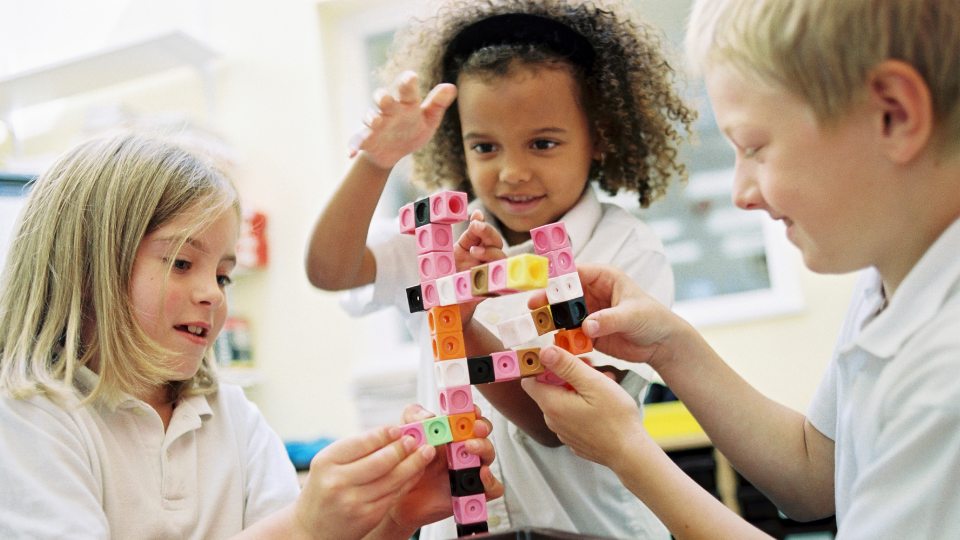 2. Help My Communication
Learn lots of hands-on ways to develop a child's attention, functional communication and vocabulary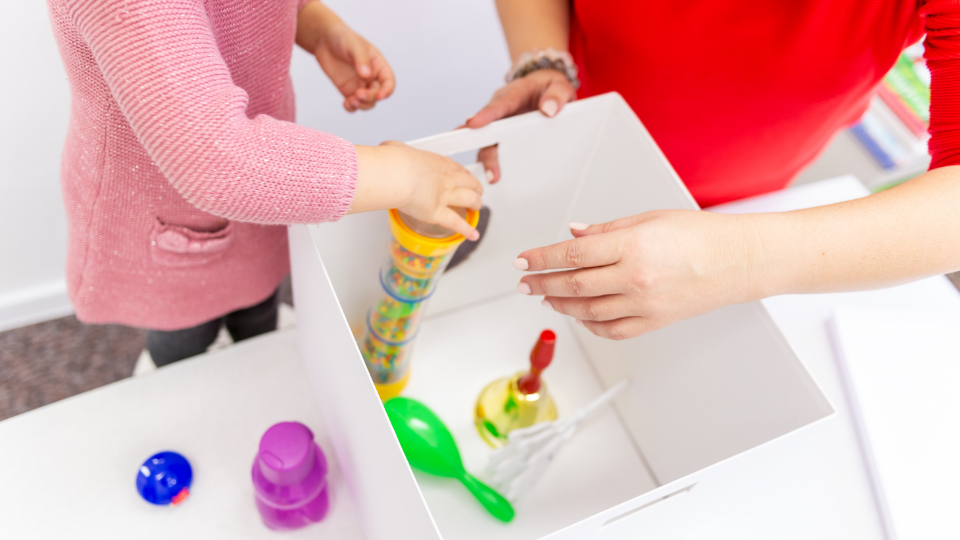 3. Help My Sensory Processing
Get equipped with practical ways in which you can support sensory regulation and enhance learning.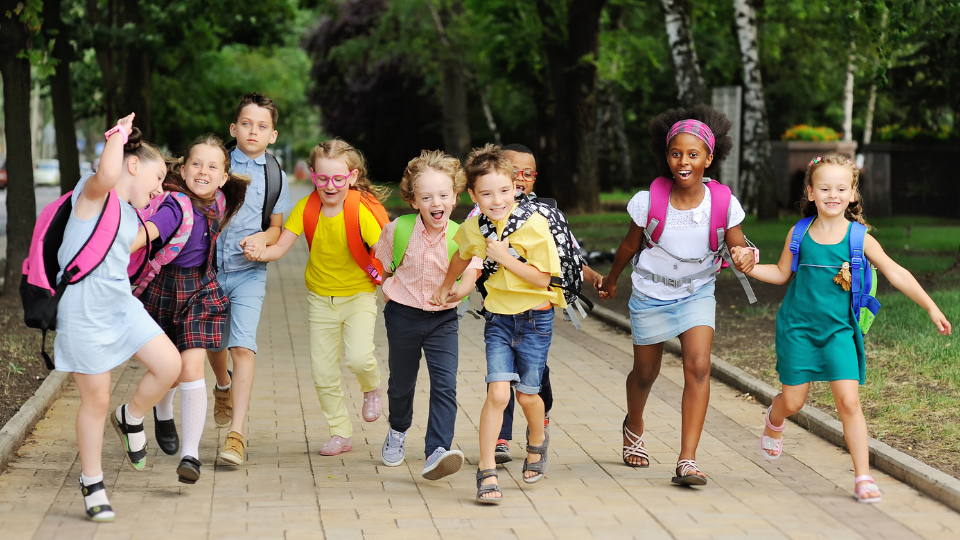 4. Help My Transitions
Learn lots of practical ways to help autistic children manage transitions and change.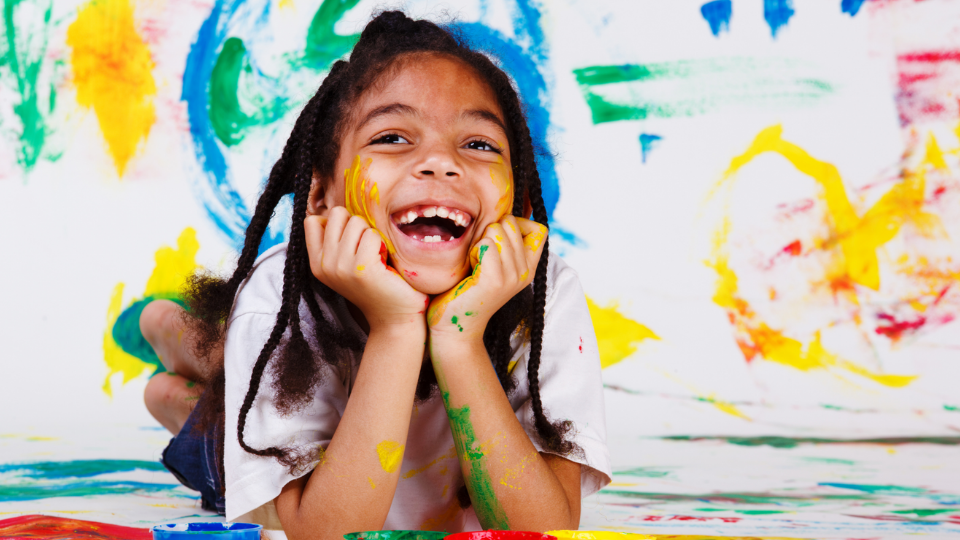 5. Help My Emotional Regulation
Learn ways to identify why a child is behaving the way they are and how to help.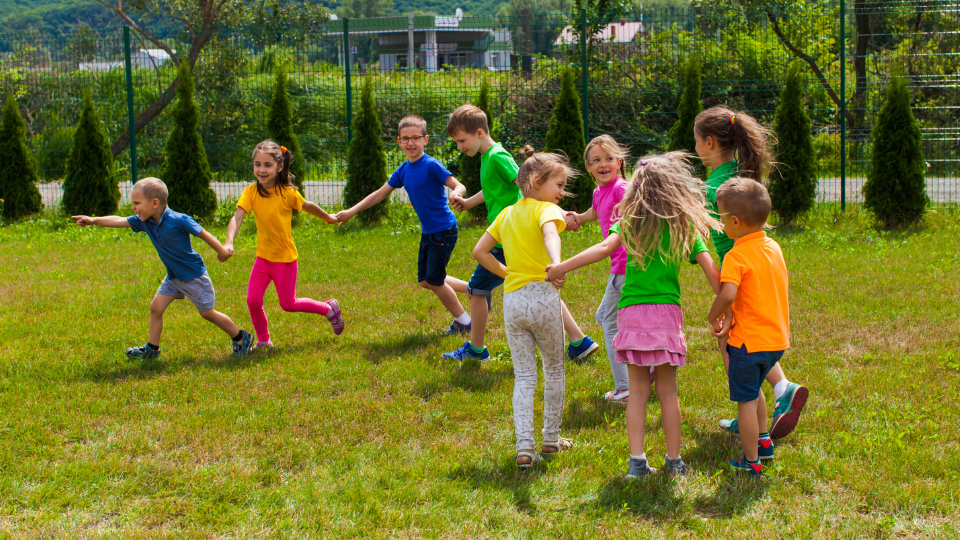 6. Help My Social Interaction
How to support the development of attention, social interaction and play skills, to help children form relationships.
Access the Courses on Any Device, at Any Time!

Frequently Asked Questions
Who is this course for?
Parent and carers of an autistic child or a child with related needs.
How will the course be taught?
The courses will be taught through a series of bitesize videos, downloadable resources and reflection tasks, that you will have access to via a login and password. You can complete the courses at your own pace and you will receive a certificate after completion of each course.
How long will it take to complete the course?
There are 6 courses and each course takes approximately 1-2 hours to complete. This can be done at your own pace and in your own time.
How long will I be able to access the content for?
You can access the content whenever you want!


What if I need support?
We are available to offer you support at any time during the course, just an email or phone call away! Please email [email protected]
Is there a money back guarantee or refund option?
The courses are designed to give you valuable information and skills however, if you are not 100% satisfied with the course and let me know within 30 days of purchasing, you will receive a full refund.