Be prepared, skilled and equipped to meet the diverse needs of children.



Efficiently manage,
de-escalate

and minimise challenging behaviour.




Confidently lead a team in the classroom to effectively support children's learning.
What is Autism for Teachers?
Watch the video to find out more!
How does Autism for Teachers help?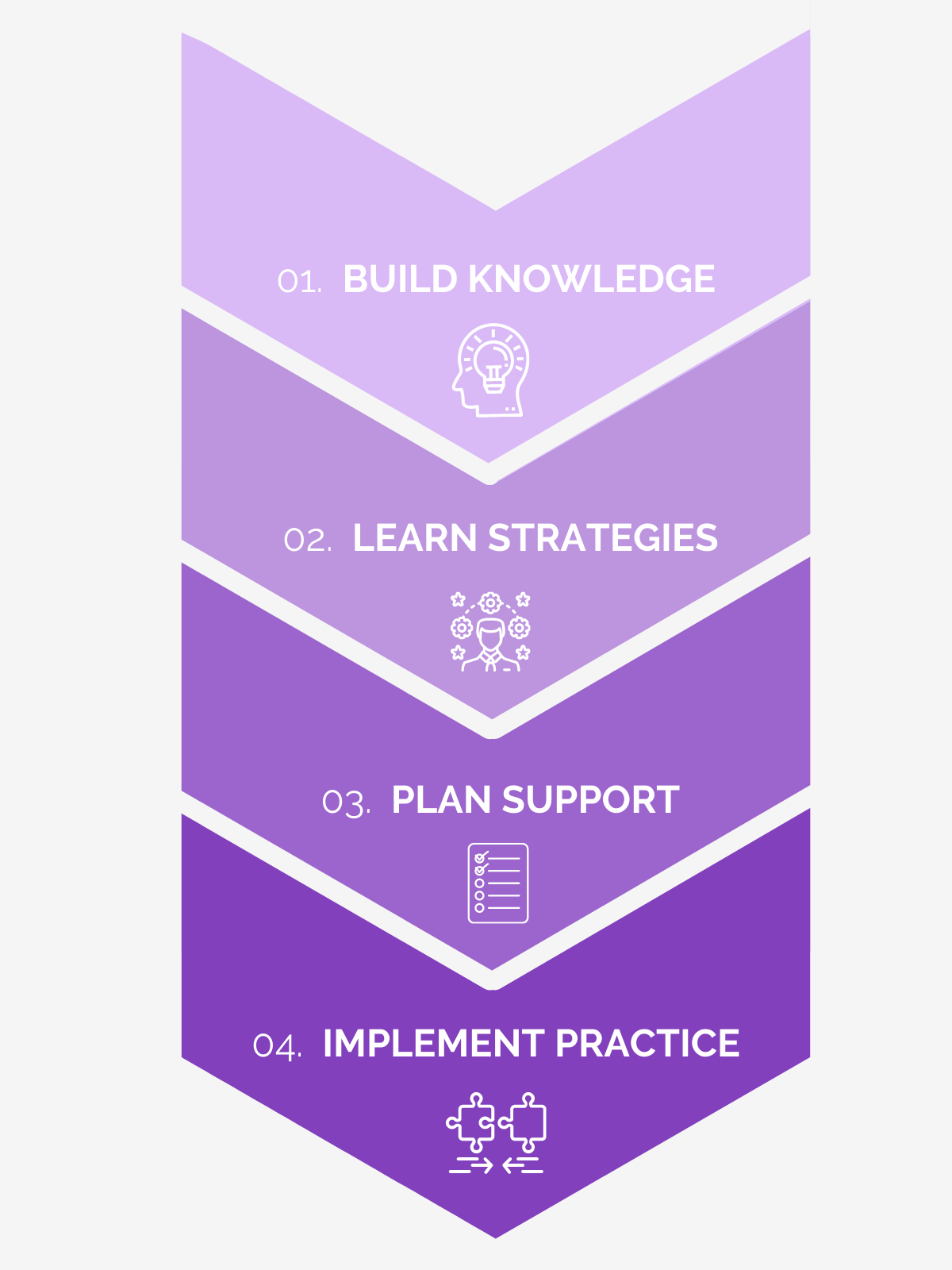 STEP BY STEP LEARNING

The Impact Teaching Framework
✔ BUILD KNOWLEDGE and understanding about neurodiversity, autism and supporting individual needs.
✔ LEARN STRATEGIES that are practical and evidence-based to meet the holistic needs of autistic and neurodivergent children.
✔ PLAN SUPPORT via a coaching model to help you reflect on current practice and next steps to enhance learning.
✔ IMPLEMENT PRACTICE that makes an impact through putting learnt knowledge and strategies into action!

AUTISM AND NEURODIVERSITY

INCLUSIVE TEACHING STRATEGIES




CERTIFICATE OF COMPLETION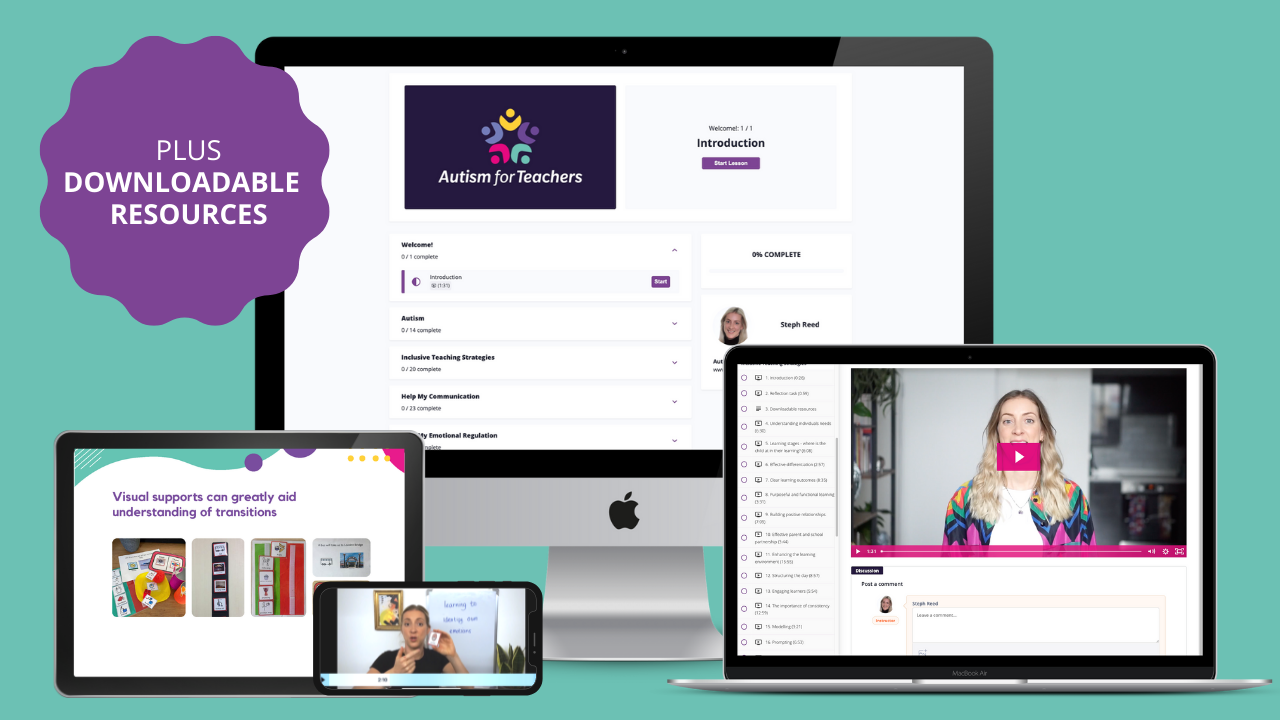 ACCESSIBLE FOR BUSY TEACHERS WITH:


Bitesize videos

Access anytime

Browser or app

Pre-made downloadable resources

Visual supports

Organisational templates

Information booklets

Further reading lists

1 year access
Hi I'm Steph Reed, Your Teacher!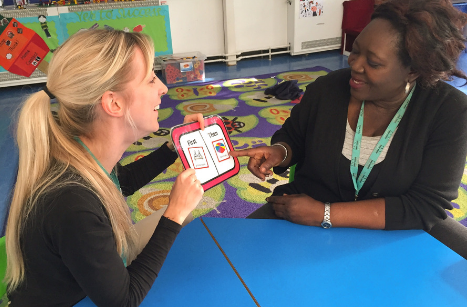 "I'm an Autism Specialist Teacher & School Consultant based in London, UK.
For the last 15+ years, I have been teaching autistic learners who have a range of abilities and complex needs. I've also previously held leadership positions of SENCo, Inclusion Leader and School Autism Outreach Leader.
I now consult in a variety of schools focusing on staff development and enhancing autism and SEND provision.
I am neurodivergent myself and this drives my passion and understanding of individual learning needs and empowering teachers."

Steph is the author and podcast host at autismspectrumteacher.com

Kind Words About the Training...
Mrs Julie Gibbs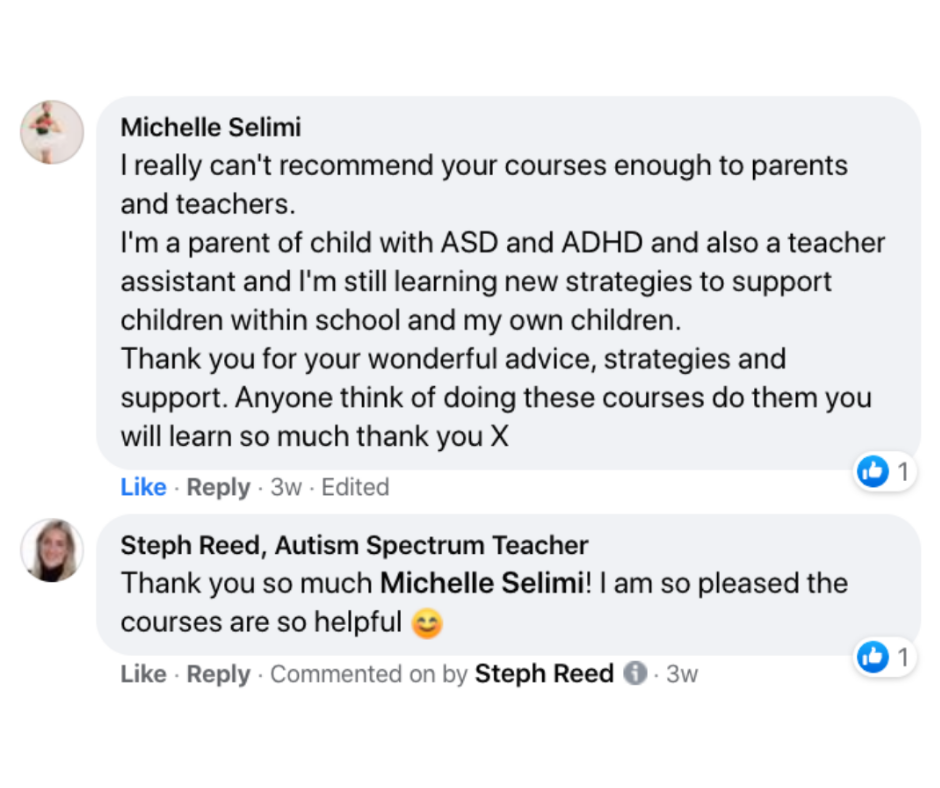 Michelle Selimi
Parent of child with ASD and ADHD & Teaching Assistant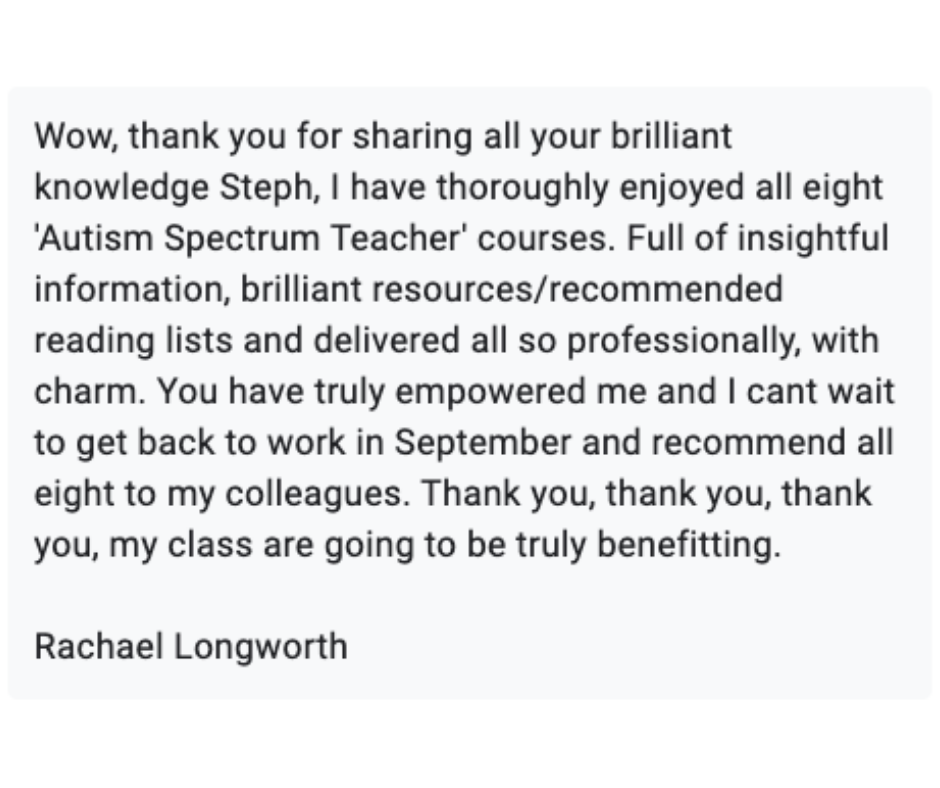 Rachael Longworth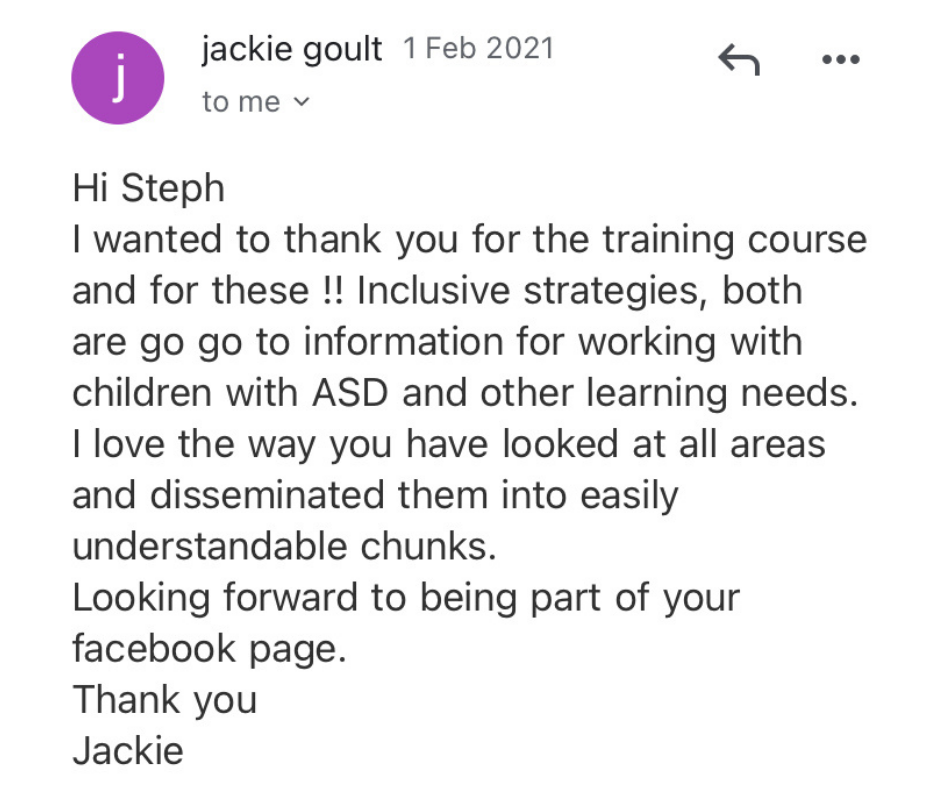 Jackie Goult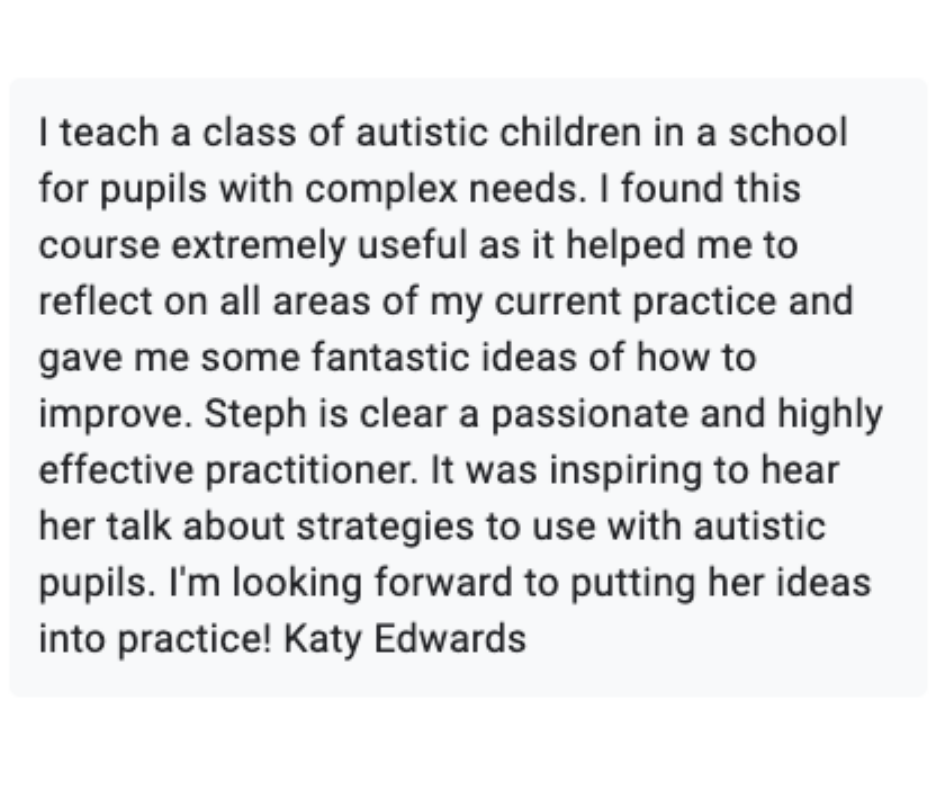 Katy Edwards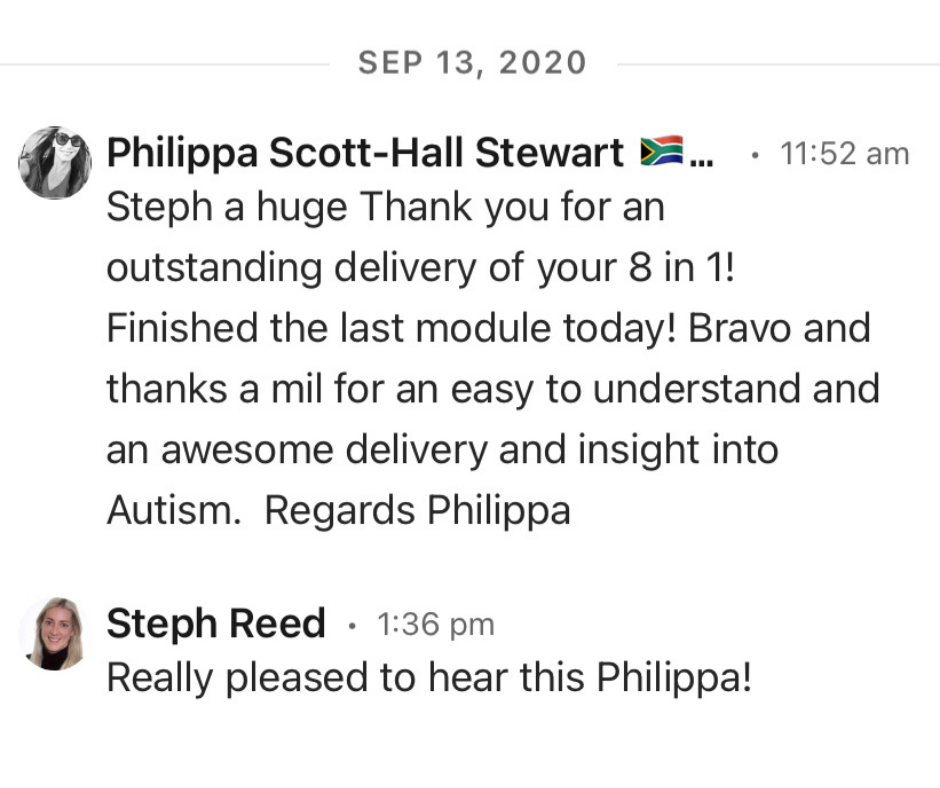 Philippa Scott-Hall Stewart
Joni Fury
Teacher in a specialist provision
Naomi
Teacher & Mum of a neurodivergent child
Frequently Asked Questions


Who are these courses for?
Anyone teaching, supporting or working with autistic children and young people. This includes teachers, support assistants, SENCO's, early years educators, children's professionals and play workers.
How will the workshops be taught?
The courses are taught through a series of bitesize videos, downloadable resources and reflection tasks, that you will access via a login and password. You can complete the workshops at your own pace and you will receive a certificate upon completion.


How long will it take to complete?
There are 8 workshops and each takes approximately 1.5 hours to complete, totalling around 12 hours. This can be done at your own pace and in your own time.


How long will I be able to access the content for?
You can access the content for a whole year!
What if I need support?
We are available to offer you support at any time during the course, just an email or phone call away!
Is there a money back guarantee or refund option?
The courses are designed to give you valuable information and skills however, if you are not 100% satisfied with the course and let us know within 30 days of purchasing, you will receive a full refund.

Multiple Users
Discount rate applies when purchasing more than one individual user account.
Site Licence
An account for every member of staff including one for group training (staff and parents).

Group Training Subscription
For use during INSET, staff meetings, induction, parents workshops or other group training scenarios.

This course can form part of your Continuous Professional Development (CPD).
Please share with your employer, as they may be able to fund your training.
A certificate will be issued upon full completion of the course.
For further information, please email [email protected]